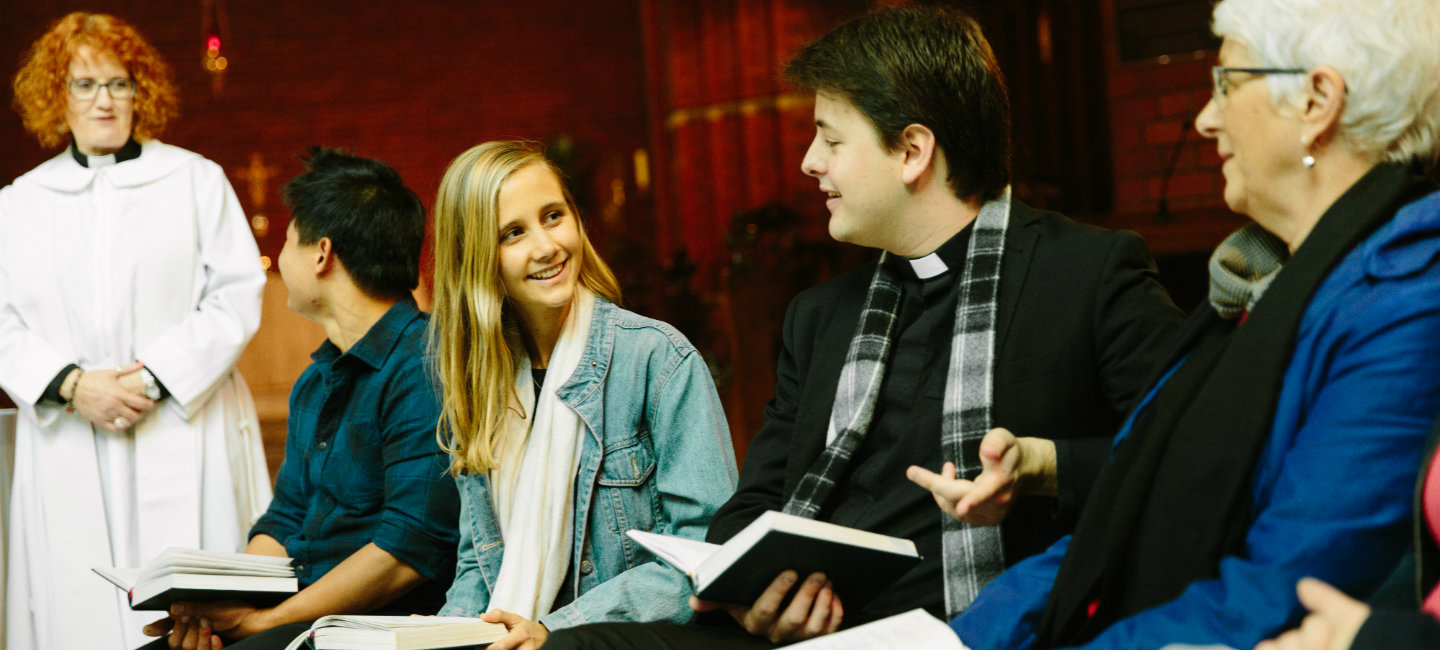 Units
The units taught at Trinity College Theological School provide options in all fields necessary to complete diploma and degree awards.
Below is a list of the units being offered by Trinity in 2024. Please see the associated timetable page for the times of classes being taught face-to-face. A printable version of the timetable is also available by clicking the link below:
Click on the unit code in the right column to view the unit description. The Postgraduate unit list appears below the Undergraduate list.
Undergraduate Units 2024
Field A: Humanities
| | | |
| --- | --- | --- |
| Study Skills for Theology (Chris Porter) – online only opens 1 Feb. and to be completed by mid-semester | S1 | AR1009T |
| Biblical Hebrew A (Megan Turton) – online synchronous via Whitley College | S1 | AL1300T |
| New Testament Greek A (Chris Porter) – with a one-week online pre-semester intensive | S1 | AL1000T |
| Study Skills for Theology (Chris Porter) – online only opens 1 July and to be completed by mid-semester | S2 | AR1009T |
| Biblical Hebrew B (Megan Turton) – online synchronous via Whitley College | S2 | AL2300T |
| New Testament Greek B (Chris Porter) | S2 | AL2500T |
Field B: Biblical Studies
Field C: Christian Thought and History
| | | |
| --- | --- | --- |
| Crises, Controversies, and Councils: Christianity Under Construction (Mark Lindsay) | S1 | CH1100T |
| Christology: Beauty and Salvation (Scott Kirkland) | S1 | CT3210T |
| Foundations for Theological Study (Scott Kirkland) | S2 | CT1020T |
| Introduction to Anglican Ecclesiology (Luke Hopkins) | S2 | CT3610T |
| Sword and Mitre: The Church's Crusades (Mark Lindsay) | S2 | CH3600T |
| Faith, Work, and Economics (Paul Oslington and Kara Martin) – intensive is Sydney, 17 to 18 October AND 31 October to 1 November 2024 - proposed unit | INT | CT3333T |
Field D: Theology—Mission and Ministry
| | | |
| --- | --- | --- |
| Mission and Leadership For Contemporary Australia (Fergus King) | S1 | DM3200T |
| Theology and Practice of Pastoral Care (Gary Heard) – online only | S1 | DP1600T |
| Handling Texts of Terror (Fergus King) – Intensive in Sydney, 13 to 15 June AND 4 to 6 July 2024 | INT | DM3600T |
| Mission, Liturgy, and Sacraments (Fergus King) | S2 | DA3300T |
| Pastoral Responses to Trauma and Disruption (Gary Heard) – online only | S2 | DP3209T |
Field D: Field Placements
Supervised Theological Field Education –

placement

S1/S2
DP2906T
Clinical Pastoral Education (CPE) –

offered as a postgraduate unit only

S1/S2
DP9100S
Postgraduate Units 2024
Foundational Units
Elective Units
Biblical Hebrew B (Megan Turton)
S2
AL9300T
New Testament Greek B (Chris Porter)
S2
AL9500T
Genesis (Rachelle Gilmour)
S1
BA9100T
Genesis [Hebrew stream] (Rachelle Gilmour)
S1
BA9110T
Reading Trauma in the Book of Jeremiah (Liz Boase) –

Intensive in Melbourne, 30 September to 4 October 2024 - proposed unit

INT
BA9???T
Gospel of Luke (Bob Derrenbacker)
S2
BN9300T
1 Corinthians (Bob Derrenbacker) – Intensive in Sydney, 15 to 17 AND 29 February to 2 March 2024
INT
BN9211T
Apocalypse Now? Reading the Book of Revelation (Dorothy Lee and Fergus King)
S1
BN9820T
Holy Land Study Tour (Bob Derrenbacker) – overseas 21 September to 3 October 2024
INT
BS9051T
Christology: Beauty and Salvation (Scott Kirkland)
S1
CT9210T
Introduction to Anglican Ecclesiology (Luke Hopkins)
S2
CT9610T
Sword and Mitre: The Church's Crusades (Mark Lindsay)
S2
CH9600T
Faith, Work, and Economics (Paul Oslington and Kara Martin) – Intensive is Sydney, 17 to 18 October AND 31 October to 1 November 2024 - proposed unit
INT
CT9333T
Mission and Leadership For Contemporary Australia (Fergus King)
S1
DM3200T
Handling Texts of Terror (Fergus King) – Intensive in Sydney, 13 to 15 June AND 4 to 6 July 2024
INT
DM9600T
Mission, Liturgy, and Sacraments (Fergus King)
S2
DA9300T
Pastoral Responses to Trauma and Disruption (Gary Heard) – online only
S2
DP9209T
Clinical Pastoral Education (CPE) – placement
S1/S2
DP9100S
Capstone Unit
| | | |
| --- | --- | --- |
| Capstone Integrated Project (Chris Porter) – required to complete all Masters awards | S2 | XX9900T |