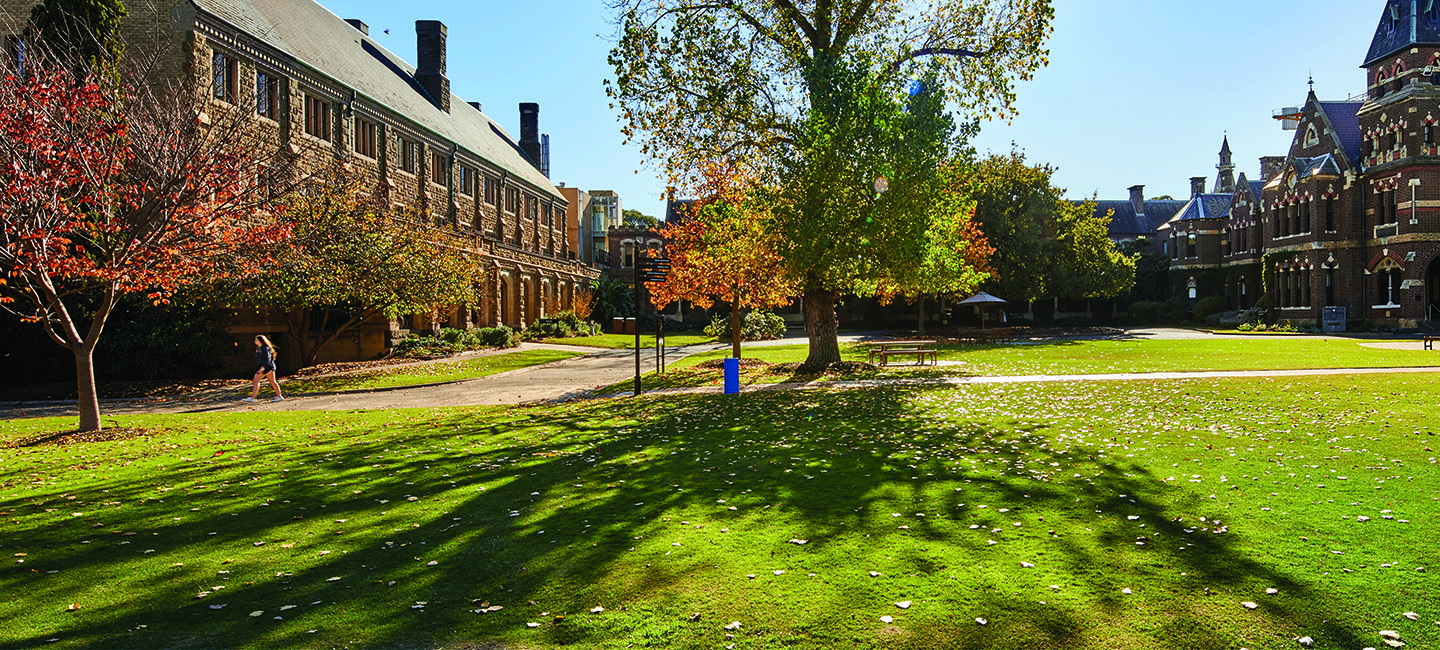 Indigenous Programs
Acknowledgement of Country
We acknowledge and pay respect to the people of the Kulin Nation, the Traditional Custodians of the land upon which Trinity College is situated. We pay our respects to all Elders of Indigenous students who call Trinity College home. We also acknowledge all Aboriginal and Torres Strait Islander stakeholders, members of the Trinity College community, the University of Melbourne and the wider world.

Uluru Statement from the Heart and Voice to Parliament
Trinity College has made a significant and sustained contribution to Indigenous human rights, the celebration and preservation of Indigenous culture, and access to tertiary education for young Indigenous women and men. In a year of national conversation and deliberation the College affirms its engagement with our First Nations people, and its determination to be an advocate and agent of change and progress.
The invitation to enshrine a Voice in the Constitution was made in the Uluru Statement from the Heart, which was endorsed by the College Board in November 2019. The College's endorsement of the Uluru Statement continues its long history of supporting our nation's Indigenous people and promoting reconciliation.
In April 2023, the Board of the College reaffirmed this support with the following statement:
Trinity College reaffirms its support for the Uluru Statement from the Heart and endorses the establishment of a First Nations Voice enshrined in the Constitution. The College does so from the perspective of its active and continuing work in supporting reconciliation since the wardenship of Alexander Leeper (1876-1918).
In making this statement, the College recognises that there are differing views and welcomes respectful and informed discussion that contributes to the understanding of the referendum question currently before the nation.
Click here to read more on the history of Trinity's support for Indigenous rights.
Ongoing programs and initiatives
Trinity College hosts the biennial Indigenous Higher Education Conference (IHEC), played a key role in the development, and teaching, of the foundation year of the BSc (Extended) and BA (Extended) and has a scholarship program for students who identify as Aboriginal or Torres Strait Islander. We also support the Uluru Statement from the Heart.
Trinity College embraces and celebrates First Nations cultures and welcomes Aboriginal and Torres Strait Islander students to apply. You can head to our Residential College Indigenous Support page to learn more.

This artwork pays respect to local customary designs representing Bouverie Creek – a subterranean watercourse that runs from Princes Park, underneath Trinity College, to Bouverie Street.
Our designer, Dixon Patten, is a proud Yorta Yorta and Gunai man. He is also director of Bayila Creative – a Melbourne-based Indigenous-owned creative agency.