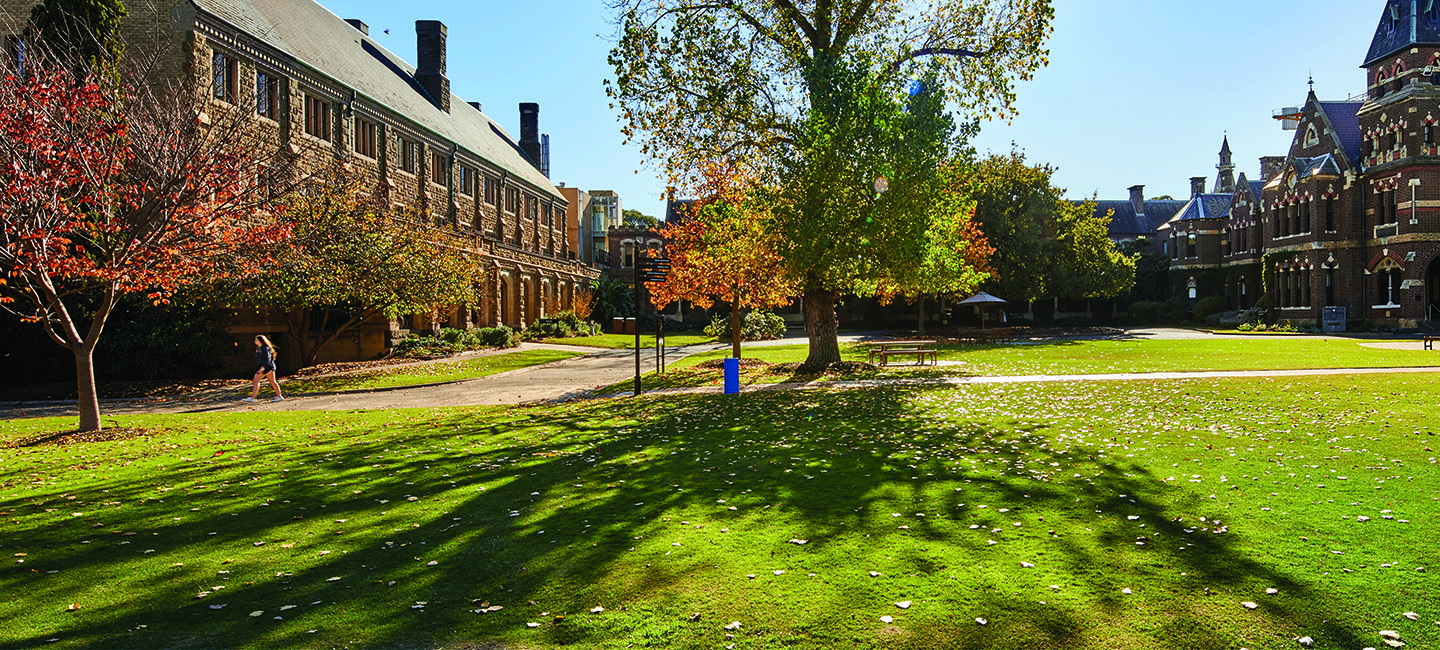 Strategy & Vision
Our vision at Trinity College is to be a vibrant, diverse community inspiring and enabling students of exceptional promise to imagine and achieve a better world.
Our story
Trinity College was established in 1872, making it the oldest college at the University of Melbourne. Our proud, rich history is built on Anglican values and has positioned us as one of Australia's most reputable educational institutions, with a strong global network of successful and engaged alumni.
To maintain our high standing and to build on our achievements, we know we need to look ahead, so continually mould our priorities and traditions to keep pace with the evolving higher education environment and societal trends.
We've taken this forward-thinking approach for many decades, for instance by becoming the first university college in Australia to admit women as non-resident students in 1883, and the first to provide a residential college facility for women from 1886 at the Trinity College Hostel (now Janet Clarke Hall). Trinity became fully co-residential in 1974.
We then embraced international education in 1990 by establishing a Pathways School to make the University of Melbourne more accessible to overseas students. In 2001, we became one of the first colleges to provide scholarships to Indigenous students, and have actively led initiatives to support First Nations students in higher education ever since.


Our values and strategic priorities
Our core values are excellence, diversity, community and society.
At a high level, these might seem like buzz words; things that any respectable educational institution would strive for. But at Trinity College, we have a clear plan to ensure these values translate into action. This plan is driven by the following strategic priorities.
Increasing diversity through accessibility
We know that diversity creates a rich learning environment that allows students to learn from and collaborate with each other, so we don't want to preclude any student of exceptional promise from accessing Trinity College, regardless of their socioeconomic or cultural background.
Building our community
Every student who attends Trinity becomes a life-long member of the College family and we are proud to have not only a group of exceptional students, but also an engaged and inspiring network of alumni around the world.
Encouraging excellence
As well as implementing flagship initiatives that keep us focused on creating a college for the future, we offer a strong program of ongoing initiatives that inspire excellence among our students.
This includes a comprehensive tutorial program, fireside chats and career events with leading academics and business people, a wellbeing program and Indigenous support programs.
Giving back to society
Trinity College has a strong drive to give back to society. While we do this in many ways, we have a number of key focus areas that steer our ambitions. This includes increasing funding to support research projects and researchers at our Theological School and developing and providing academic and wellbeing programs for Indigenous students.