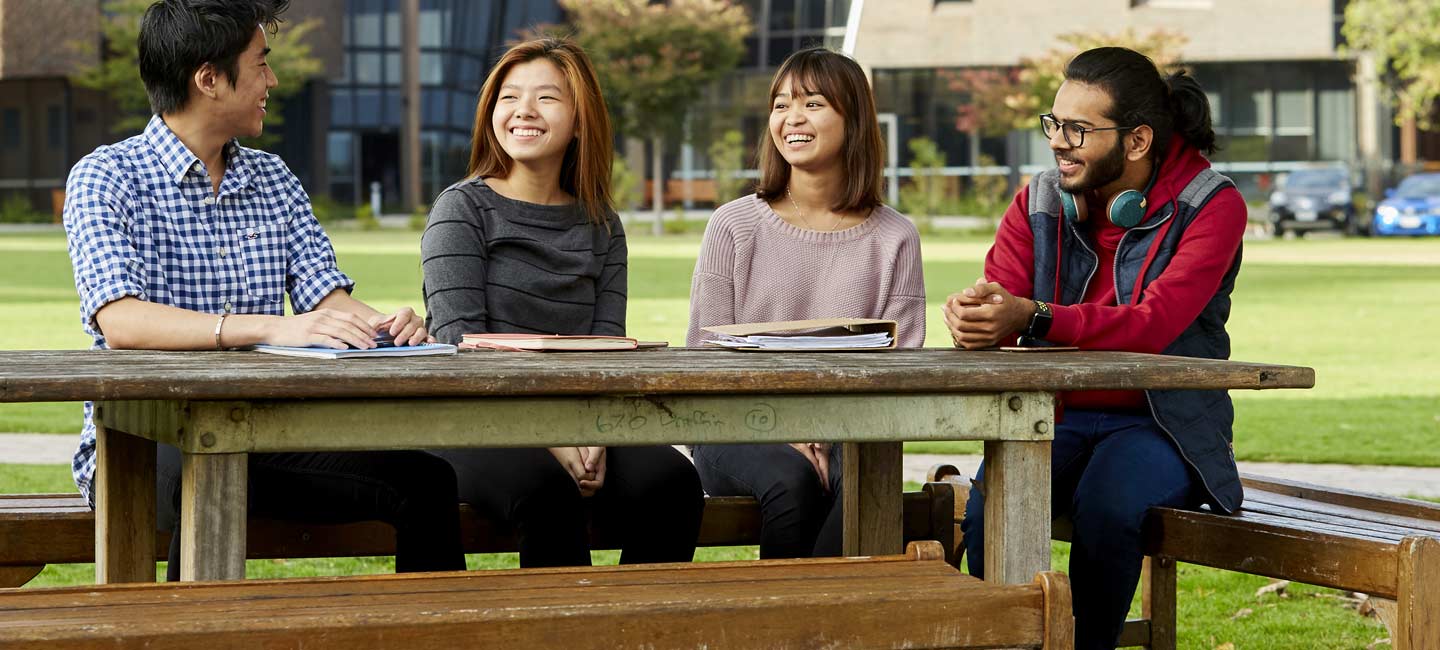 Wellbeing and Support
Discover the wellbeing and personal support services available to you when you complete Foundation Studies at Trinity College.
Support for you
It's important that you feel happy, confident and at your best during your time at Trinity College. As a student here, you'll receive excellent care and support as you settle into life in Australia and navigate your academic pathway from high school to university.
Academic support
Right from the beginning of your Foundation Studies journey you'll meet with academic advisors who will help you select your subjects. This will ensure you're in the best position to transition into the University of Melbourne course of your choice.
At Trinity College you'll benefit from small class sizes with a maximum of 15 students, as well as individual mentoring plus academic advice and support.
Social support
There are plenty of opportunities to connect with your classmates and get active at Trinity College. From sports activities to religious groups and social clubs, you can find a social group to suit you.
Learn more about Trinity College clubs and activities.
Health and wellbeing support
Your ongoing physical and mental health are vital for enjoying a positive study experience at Trinity College. We've got a variety of personal health and wellbeing services available to you provided by a range of professionals.
Learn more below.
Student Wellbeing
Our Student Wellbeing team can offer you personalised support in areas such as:
personal wellbeing
health
adjustment to life in Melbourne
independent living skills
class attendance
management of crisis and emergency situations.
You can access these support services both during the school term and in holiday periods, as needed.
Counselling
Compassionate and confidential counselling is available to help you maintain mental wellbeing and cope with any personal or study-related difficulties. Talking to someone about your struggled can help you boost your energy, improve your time management and approach your studies with more clarity.
You can make an appointment to speak to a campus counsellor over the phone or in person.
Careers and alumni
As you progress in your Foundation Studies program at Trinity College, you'll be supported by our Careers and Alumni Office. You'll have access to exciting opportunities such as:
career development workshops
business information sessions
job and internship opportunities
networking events.
You can learn more about the Careers and Alumni Office and the support and services they provide here.
Health
Australia has very high health standards and excellent medical facilities, should you ever need them.
Trinity College is supported by the University of Melbourne Health Service, which provides comprehensive health services, including out-of-hours emergency assistance and a 24-hour medical helpline.
If you require further medical assistance, there are several internationally renowned medical facilities within walking distance to the Trinity College Campus, including:
The Royal Melbourne Hospital
The Royal Dental Hospital of Melbourne
The Royal Children's Hospital
The Royal Women's Hospital
Overseas Student Health Cover (OSHC)
You need to take out Overseas Student Health Cover (OSHC) to meet the terms of your student visa. This will mean you're covered financially if you do require medical care during your studies in Australia.
With OSHC, you'll be able to access things like:
ambulance services
reduced costs for doctor, radiology and pathology appointments
a 24-hour student hotline available in more than 180 languages, providing emergency and non-emergency support, general advice and interpretation services.
Trinity College can arrange OSHC for you through insurer Bupa, or you can organise your own OSHC if you choose.
Click here for further information about Bupa's OSHC. You can also visit www.bupa.com.au/students or send an email to uom@bupa.com.au. You can reach OSHC by telephone on 1800 644 111 (general enquiries), or 1300 884 235 (24-hour student advice line).
To obtain your BUPA OSHC card:
login to www.mybupa.com.au
update your local address and order your membership card
confirm other personal details such as name and date of birth
make sure you extend cover should your end date be different to what you have purchased.
To make any changes, use one of the following options:
visit the member self-service area
visit the Bupa representative at the University of Melbourne Heath Service - 138-146 Cardigan St, Carlton between 9am to 5pm Monday to Friday
telephone 1800 644 111
email uom@bupa.com.au
Note: Trinity College receives a commission from BUPA for arranging OSHC policies for students. The funds received contribute to the provision of student welfare and support services.
OSHC premium
As of 30 June 2023 the OSHC premiums applicable can be found here.
If you have any questions, please contact foundationstudies@trinity.unimelb.edu.au