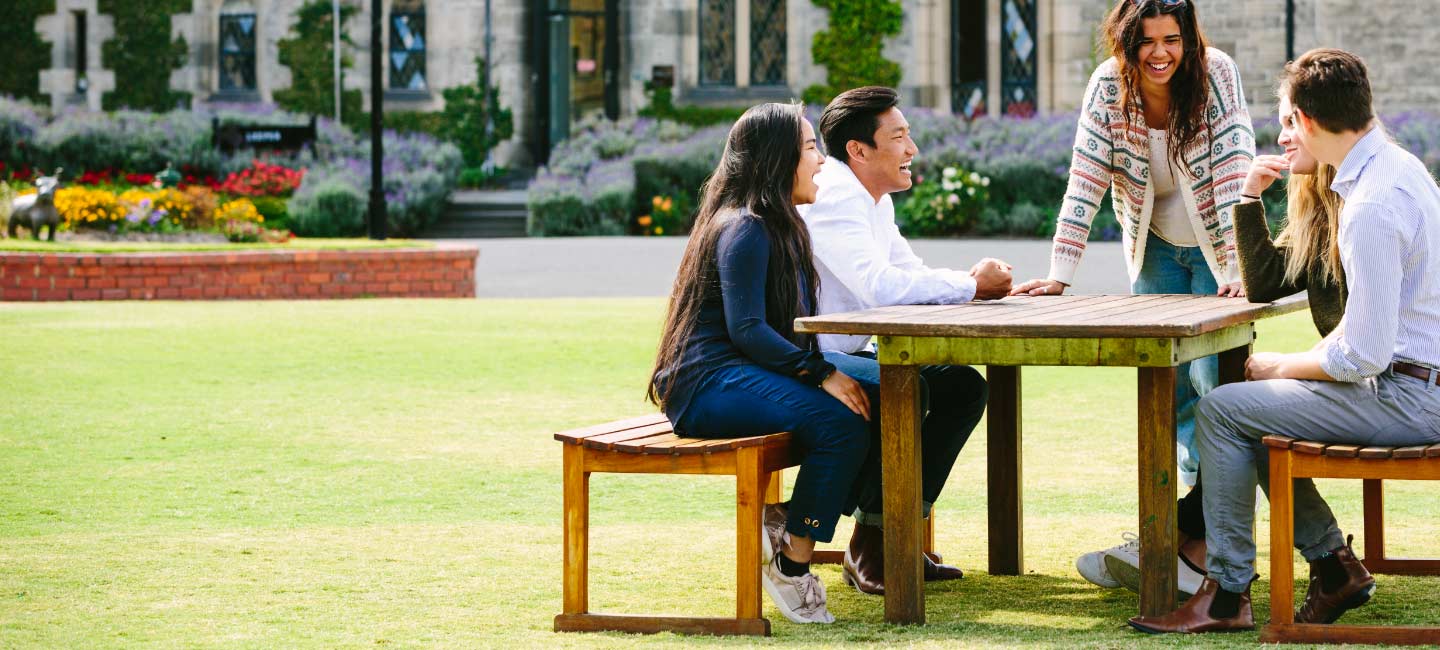 Fees
Residential College fees 2024
Living at Trinity means so much more than a room and a bed! We offer many support services, activities and opportunities that you may not get access to through other university accommodation providers, so you should definitely consider this when making your decision about where to live while studying.
Essentially, living at Trinity College is a once-in-a-lifetime opportunity that sets you up with valuable friendships and connections for life. You can't really put a price on that. As we often say, once a Trinitarian, always a Trinitarian!
That said, we realise living at Trinity does come at a cost, so here's what you can expect from your fees.
What our fees cover
Firstly, you will, of course, receive the following standard inclusions:
a private room (see what this includes by visiting our rooms and facilities page)
3 meals per day (and our food is pretty good, if we say so ourselves!)
heating, electricity and water at no extra cost
high-speed Wi-Fi.
On top of that – and just as importantly – you will have access to:
intercollegiate events and competitions (sports, musicals, plays, and more)
academic tutorials (these can be invaluable when you're transitioning from school to uni, and are in addition to your university tutorials)
an on-campus library just for Trinity students, where you can research and study (it's open to students 24/7)
a safe and welcoming campus with on-site security and trained wellbeing staff
formal dinners, weekly social events, talks with guest speakers, and many student-led activities – too many to list here (trust us, you'll never be bored)
bursar and internship opportunities – meaning you can pick up some job-ready skills while you're studying
access to the Trinity College alumni network, which is made up of almost 30,000 people across 80 countries who are often all too happy to help a fellow Trinitarian out (plus we have a dedicated online platform to help you connect).
Payment options
There are three payment options available for full-year students:
Option A: a single payment of $38,400
Option B: pay in two instalments totalling $38,990
Option C: pay in six instalments totalling $39,576.
The payment alternatives and due dates for each instalment are shown below.
Payment Option A
| | | |
| --- | --- | --- |
| Payment Option A | Payment | Due Date |
| Full year in advance | $38,400 | 31 January |
Payment Option B
| | | |
| --- | --- | --- |
| Payment Option B | Payment | Due Date |
| First of two instalments | $19,495 | 31 January |
| Second of two instalments | $19,495 | 20 June |
Payment Option C
| | | |
| --- | --- | --- |
| Payment Option C | Payment | Due Date |
| First of six instalments | $6,596 | 31 January |
| Second of six instalments | $6,596 | 20 March |
| Third of six instalments | $6,596 | 20 April |
| Fourth of six instalments | $6,596 | 20 June |
| Fifth of six instalments | $6,596 | 20 July |
| Sixth of six instalments | $6,596 | 20 August |
Compulsory Fees
In addition to the residential fees are the compulsory fees, covering things like your enrolment fee, room bond and membership to the TCAC (the student committee that plans and runs all internal College events).
| | |
| --- | --- |
| Compulsory Fees | Payment |
| College enrolment fee (non-refundable)** | $925 |
| TCAC joining fee ** | $240 |
| TCAC annual membership | $360 |
| Bond (see below) ** | $950 |
| Lifetime Alumni Association membership fee ** | $405 |
| Total | $2,795 |
** payable in year one only

The schedule applies to students residing at Trinity College for the full academic year. Undergraduates are in residence for 36 weeks (two 18-week semesters, including exam periods and term breaks). Students are required to vacate their rooms during the mid-semester break. Semester-break stays are occasionally available at the discretion of the Dean of College and subject to an additional charge. Please note the following rates apply to credit card payments: domestic credit cards 0.4%, international credit cards 2.8%, AMEX 1.65%.
Financial assistance
Trinity College provides a range of payment options to assist budgeting for residence and to encourage the timely payment of fees. Families in demonstrated financial need with concerns about fee payment are encouraged to discuss their situation in confidence with the Dean of the Residential College at the earliest opportunity.
Find out more about financial assistance and scholarships
Study abroad / exchange
Wherever possible, it is expected that students will remain in residence for the full year. A separate schedule of fees applies to those students on a study abroad or exchange program, or those who are seeking residence for one semester only. If you are going on an overseas exchange or are completing your university studies mid-year, please contact us at admissions@trinity.unimelb.edu.au
Bond
Bonds are refunded when a student leaves Trinity College permanently, subject to:
the student's room being left in good condition
the return of all Trinity College property, including access cards and library books
there being no outstanding balance on their account.
Are the fees worth it?
As students tell us time and time again – absolutely. Here's what one of our young alumni had to say:
"I have friends from my old school doing the same uni course as me who don't live on campus and they aren't getting the chance to enjoy uni life in the same way I am."

Your university years are precious and are something you can't get back. So make the most of the rare opportunity to live within a community of like-minded students, get involved in as many activities as you can, ace your studies, and have a tonne of fun.
Any questions?
Our helpful admissions team is on hand to answer any specific questions you might have about fees, scholarships, single semester stays or ABSTUDY.
Write to us at residentialcollege@trinity.unimelb.edu.au