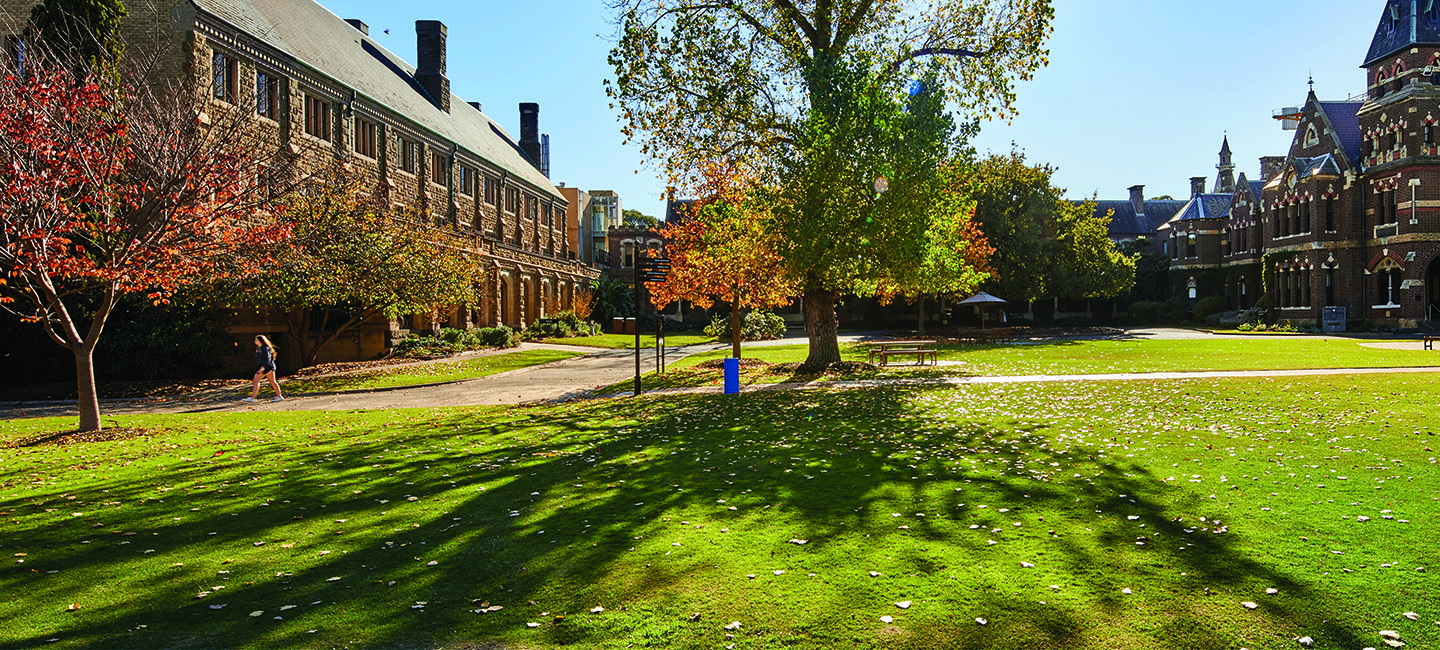 Fellows and Senior Fellows
Fellowship of the College is the highest honour that the College can bestow.
Fellows
The Fellows of Trinity College are a select group of international community, academic, business and professional leaders. Honorary Fellows are elected by the College Council. Election is for life (see the list below of Former Fellows), or until elevated to the status of Senior Fellow. The number of Fellows is limited to 30 at any one time.
2014 Ms Rowena Armstrong AO QC
2014 Dr Graeme Blackman AO
2020 Mr Syd Bone
2017 Dr Barbara Cargill
2020 Mr Jim Craig
2014 The Rt Revd Andrew Curnow AM
2020 Ms Susanne Dahn
2017 Ms Margot Foster AM
2022 The Most Revd Kay Goldsworthy AO
2022 Ms Melissa Gray
2020 The Hon Justice David Harper AM
2014 Associate Professor Alison Inglis
2012 Professor Marcia Langton AM
2015 Professor Peter McPhee AM
2012 Dr N. Bruce Munro
2022 Mrs Judy Munro
2022 Dr Brendan Murphy AC
2017 Adjunct Professor Clare Pullar
2022 Mr Charles Sitch
2022 Mr Michael Traill AM
2022 Mr Rick Tudor OAM
2022 Ms Hong Yi (Red)
Senior Fellows
Under new provisions of the Constitution adopted on 29 October 2009, the Council may elect to the status of Senior Fellow a person who has been an honorary Fellow of the College for not less than 10 years, and who has played a distinguished part in the life of the College.

2022 The Hon. Austin Asche AC KStJ QC (elected Fellow in 2010)
2022 Mr David Brownbill AM (elected Fellow in 2009)
2017 Associate Professor Anthony Buzzard AM (elected Fellow in 1997)
2011 Sir Roderick Carnegie AC (elected Fellow 1980)
2020 The Most Revd Dr Peter Carnley AC (elected Fellow in 2001)
2022 Mr Robert Champion de Crespigny AC (elected Fellow in 2010)
2017 Mr Rob Clemente (elected Fellow in 1997)
2017 Mr Bill Cowan AM (elected Fellow in 1997)
2012 Mr Robert Cripps AM (elected Fellow 1984)
2021 Mrs Louise Gourlay AM (elected Fellow 2009)
2015 The Rt Revd Dr Peter Hollingworth AC OBE (elected Fellow 1998)
2021 Dr Michael 'Taffy' Jones AM PSM (elected Fellow 2009)
2017 Professor Richard Larkins AC (elected Fellow in 1997)
2020 Dr Susan Lim (elected Fellow 2005)
2020 Ms Fay Marles AM (elected Fellow 2005)
2010 Professor John Poynter AO OBE (elected Fellow 1965)
2020 Professor Richard Smallwood AO (elected Fellow 2005)
2015 Dr Mechai Viravaidya AO (elected Fellow 1997)
2021 Dr Denis White (elected Fellow in 2009)
Former Fellows
1980 Dame Margaret Blackwood DBE (†1986)
1980 Sir John Bunting KBE (†1995)
1997 The Revd Dr Evan Burge (†2003)
1974 Sir Joseph Burke KBE (†1992)
2002 Mr W B 'Barry' Capp AM (†2020)
1982 Professor Manning Clark AC (†1991)
1980 Sir Rupert Clarke AM MBE (†2005)
2015 Mr Laurie Cox AO (†2023)
1994 The Rt Revd Robert Dann (†2008)
1980 Professor Peter Dennison (†1989)
2012 Professor C. Ian Donaldson (†2020)
1980 Sir Clive Fitts (†1984)
1992 Mr John Gourlay AM (†2007)
1980 The Hon Sir Rupert Hamer AC KCMG ED (†2004)
2022 Ms Leith Hancock (†2023)
1980 Sir Edmund Herring KCMG KBE DSO MC ED QC (†1982)
1980 Dr John Hueston (†1993)
1984 Dr Peter Jones (†1995)
1998 Miss Valentine Leeper (†2001)
2000 Dame Elisabeth Murdoch AC DBE (†2012)
1998 Mr James Perry (†2007)
2012 Dr Roger Riordan AM (†2019)
1989 Mr Robert Sanderson DFC (†2008)
1980 The Hon. Sir Reginald Sholl (†1988)
2012 Mr Clive Smith (†2023)
2000 Mr Michael Thwaites AO (†2005)
1982 Sir Lance Townsend (†1983)
2022 Mr Angus Trumble (†2022)
1992 Professor Kevin Westfold (†2001)
1980 The Most Revd Sir Frank Woods KBE (†1992)
Former Senior Fellows
2011 Mr Alan Cuthbertson (elected Fellow 1980) (†2021)
2020 Professor Derek Denton AC (elected Fellow 2004) (†2022)
2010 The Rt Revd James Grant AM (elected Fellow 1975) (†2019)
2012 Mr James Guest AM OBE VRD (elected Fellow 1984) (†2015)
2012 Sir Brian Inglis AC (elected Fellow 1990) (†2014)
2012 Mr Brian Loton AC (elected Fellow 1990) (†2022)
2011 Professor Robin Sharwood AM (elected Fellow 1980) (†2015)
2011 Professor Alan Shaw AO (elected Fellow 1980) (†2012)
2020 Ms Diana Smith (elected Fellow 2002) (†2021)
2012 The Hon. Clive Tadgell AO QC (elected Fellow 1993) (†2022)
2015 Mr Richard Woolcott AC (elected Fellow 1996) (†2023)