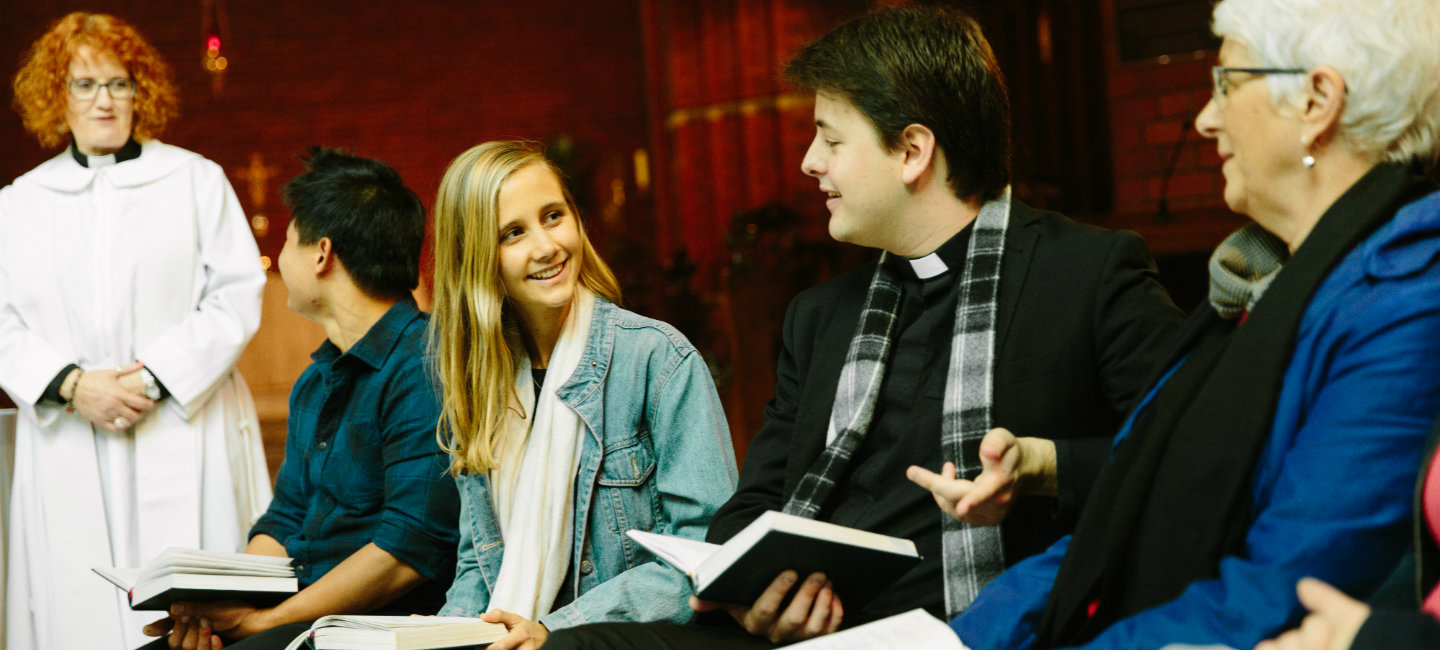 About the School
Trinity College Theological School offers courses at all levels of study, taught by an international faculty.
Established in 1877, Trinity College Theological School is committed to forming those who wish to pursue ordination in the Anglican Church of Australia, develop skills for lay ministry, or simply explore the Christian faith for personal or vocational enrichment and development.
Through the University of Divinity, the School offers high-quality, accredited degrees and diplomas, and also serves the wider community by offering professional development workshops and seminars through our Continuing Education program.
Trinity prepares students for the diversity of the modern church as they learn about a variety of ecclesial expressions and theological ideas in contemporary society. Our students come from diverse backgrounds and undertake study for many reasons and in a variety of different ways. Students may study part-time or full-time students, and do so online or face-to-face in the classroom. They are always encouraged to engage in open discussion and lively debate about the Scriptures, theological issues, and  the variety of expressions of Anglicanism, and how these might apply to life today.
Trinity College Theological School offers an inclusive, supportive community where:
you learn in small groups, where your questions and ideas are welcomed
nearly all classes are taught both online and on-campus

part-time study is an option for all your courses

financial support can be provided to help ordinands complete degrees full-time

a number of generous scholarships are available.
To become the leading Anglican Theological College within Australia, with a resilient and dynamic base, by appealing to the broad, Catholic Anglican tradition in the Diocese of Melbourne, Province of Victoria, and beyond, and through a strong and vibrant program of teaching.

To continue rigorous and innovative ministry formation for lay and ordained men and women, offering new models and patterns of worship and mission for new and changing contexts.

To produce internationally recognised research. 

To develop strong ecumenical links and partnerships.
To enable our community to celebrate its diversity.
Take a closer look at our campus via a virtual tour below!

The Trinity Community
Social life
Sharing experiences – whether in class, at Chapel, over meals, or at other times – is a crucial aspect of growth and learning. Members of staff and students support each other and learn to accept difference. They appreciate the points of view and experiences of others as essential steps in preparation for ministry. Structured ways of being together are incorporated into the program, particularly on Mondays in the Ministry Formation Program. All Theology students have access to the Theology Common Room in the Old Warden's Lodge. They are also an integral part of the wider Trinity College community, have full use of the College libraries and other facilities, and may purchase lunch in the College Dining Hall.
Spiritual life
Prayer and worship are central to the life of the School. The Trinity College Chapel, adjacent to the Theological School, is open each day. Staff and students plan and lead services centred on A Prayer Book for Australia, and shaped for the community context. Morning Prayer (The Daily Office) is said each weekday (except Thursday), and the Eucharist is celebrated on Monday afternoon and Thursday morning during term. All members of the Theological School community are expected to participate when possible. The School conducts an Annual Retreat for those participating in the Ministry Education Program. This is a time to enhance community as well as providing space for prayer and silence.
Pastoral support
While Trinity College encourages everyone to take responsibility for their own health and welfare, the College recognises there are times and situations when students may value extra support or advice. Dealing with the stresses of student life – concerns over career and studies, personal problems, disputes or health issues – can sometimes be overwhelming. Trinity College students should feel free to talk in strict confidence to any member of the Theological School staff. Many of the lecturers and staff of the Theological School are ordained ministers, and are available as a first point of call should you be anxious, or just feel like talking. We can then refer you to appropriate professional assistance if you would like further help. The members of the College's Chaplaincy team are also there to help. There are several levels of the pastoral care network, depending on whether a student wishes to speak to a member of staff, or a fellow student, about what is on their mind. Students must be aware of the Code of Conduct, which sets out expectations of behaviour, and provides mechanisms for reporting or dealing with situations that may have caused you distress.
Inclusion policy
Trinity College Theological School community is a diverse and inclusive one, and we acknowledge that human rights and social justice apply to all. We adhere to the University of Divinity's Inclusion Policy, established to reflect the rights and responsibilities of all members – including academic and administration staff, and students. 

The University of Divinity and Trinity College Theological School are committed to:
the admission of students on the basis of academic merit 

the inclusion, engagement and support of students of a variety of beliefs, backgrounds and abilities 
fostering a culture that is free from discrimination based on disability, age, gender, gender identity, sexual orientation, marital status, religion, colour, race, ethnicity or country of origin

the provision of reasonable support to all students to assist them to enjoy a rich participation in university life

creating an accessible and inclusive environment for all students.

Included with the Inclusion Policy is a Student Application for Support form. This can be used by students who may benefit from additional support, based on a specific need or condition. Examples of this include consultation with students with disability to determine the most appropriate level of support; making reasonable adjustments to usual policy of practice in order to meet the needs of a student with disability; taking steps to eliminate obstacles and barriers to access; and identifying and attempting to stop cases of bullying. For more information, please contact the Course Coordinator, who can assist the student with lodging this form. A possible outcome of this application process is a specially prepared Student Support Plan that can be shared with the student's lecturers.
For further information:
CRICOS Provider No: 01037A (University of Divinity)