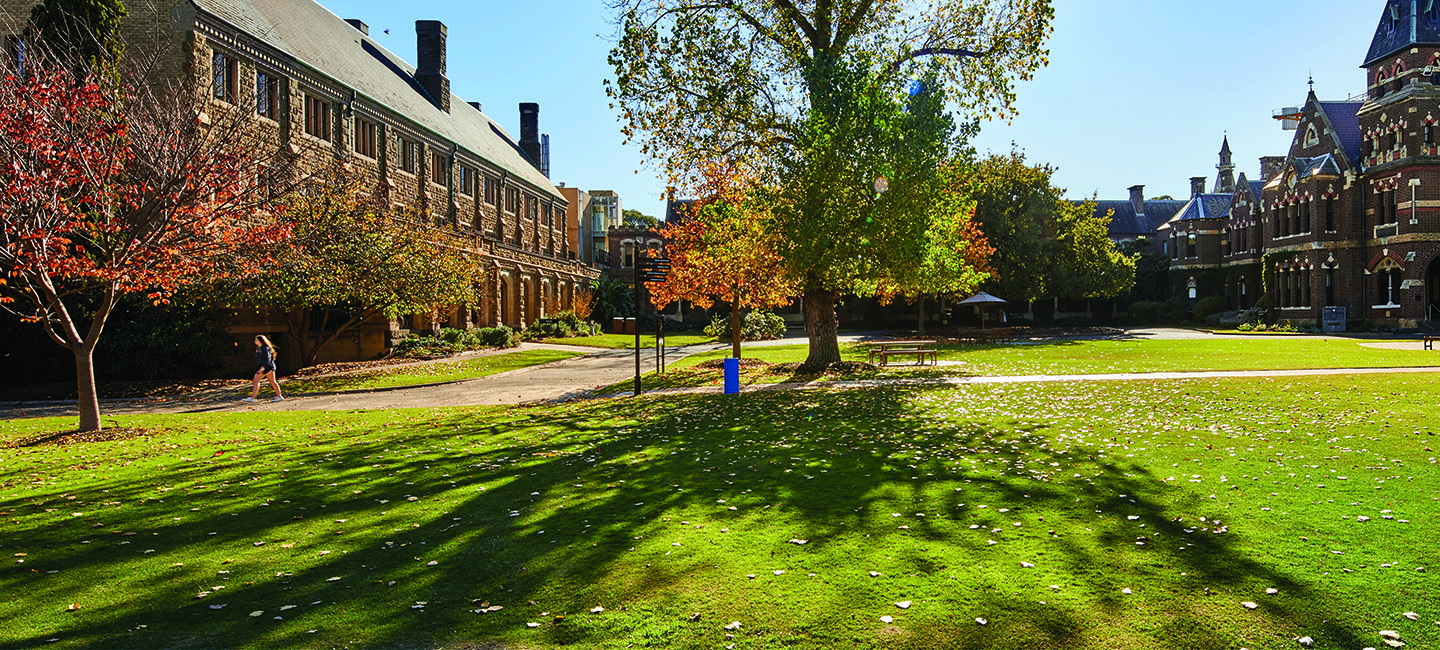 Chapel and Chaplaincy
For over 100 years, students, staff and alumni of Trinity College and Janet Clarke Hall have come together to worship in the Chapel with members of the wider community.

The Chapel
Consecrated in 1917, the Chapel is an Anglican Church that sits within the grounds of Trinity College and the University of Melbourne. People of all denominations and faiths are welcome to visit and worship at our College Chapel.
Chapel services reflect the rich Anglican heritage of Trinity College, but it is not necessary to be an Anglican or a regular worshipper to join in Chapel worship and other activities.
Staff and students from the University and the wider community join students and staff in Sunday and weekday worship. The College Chaplains, eminent visiting preachers, and members of both the Trinity and Janet Clarke Hall communities all preach at various services throughout the year. All students and staff are also welcome to join in activities around the Chapel including bible studies and discussion groups. The Chapel is also available for life event ceremonies, including weddings and funerals.
The Chaplain of Trinity College offers meaningful and engaged pastoral support to staff, students and alumni, including supporting worship in the Chapel.
Regular Service Times
Sunday
5.00pm: Choral Evensong (during semester time)

Monday
9.00am: Morning Prayer
1:00pm: Eucharist (during semester time)

Tuesday

9.00am: Morning Prayer
5:00pm: Christian Meditation
Wednesday
9.00am: Morning Prayer
12.00pm Eucharist (otherwise known as Mass or Holy Communion)

Thursday
9.00am: Morning Prayer

Friday
9.00am: Morning Prayer

Chaplaincy
The Chaplain at Trinity College provides the highest possible standard of pastoral care and worship to all members of the Trinity College community.
Our Chaplain is available to students and staff across all areas of the College, to people of all faiths and none. What does a Chaplain do?
provides hospitality
offers counselling
assists in the resolution of academic and life issues as brokers or advocates
marshals resources in times of need or crisis
accompanies individuals and groups through various challenges
provides theological and non-theological mentoring to students.
The Chaplain also ensures that the College Chapel is a lively space of worship by encouraging creative, respectful interaction across and within the different faith traditions represented in Trinity's diverse community.
Chaplain
The Revd Dr Luke Hopkins
Luke is the College Chaplain, overseeing worship in the Chapel and providing support for all members of the College and wider community.