What's the connection between the 400m hurdles and Lady Gaga? Steve Hasker's career.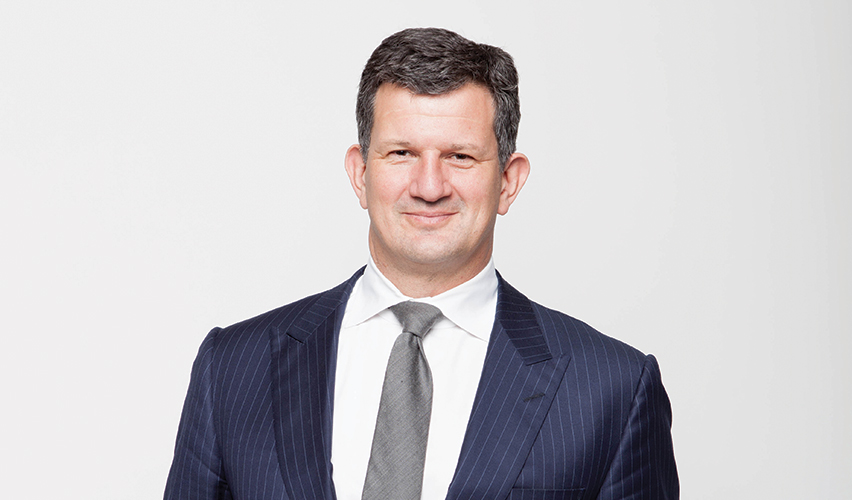 Location: New York, USA
Hurdling can't last forever. That's what Steve Hasker (TC 1987) learnt when his track and field career came to a halt in 1995. Looking for a fresh start, Steve signed up for a Master of International Affairs and an MBA in New York. This led to short stints working in New York, Sydney and London with management consulting firm McKinsey, along with financial services roles in Melbourne and Russia, before Steve was drawn back to McKinsey's New York office. Twenty-five years later, NYC feels like home.
Steve's ensuing career as a media industry executive follows a 'right place, right time' narrative. 'In a consulting environment, a lot of people go in thinking about working in a particular industry, but your path is often determined by the quality of the people you work with,' says Steve. 'At that point at McKinsey [in New York], the media practice was very strong and full of talented people, and a lot of them were Australian. It made me feel at home, I suppose.'
For Steve, the work environment in New York became an optimal balance of Australian collegiality and American business acumen. 'People in the United States are very aligned to a set of objectives,' he says. 'It's an easy place to do business because people are highly motived. They're ambitious and they get straight to the point.'
Steve would soon find himself dealing with a particularly glamorous group of highly motivated people: celebrities. A role turning around Nielsen's media measurement business – a global frontrunner in ratings, audience measurement and marketing data analysis – would lead him to the chief executive's seat at Creative Artists Agency Global (CAA), the world's biggest talent agency, which unsurprisingly looks after some of the world's highest-profile names.
With celebs such as Lady Gaga, Ashton Kutcher and Martha Stewart on the books, Steve learnt to marry business and art. 'An agent's role is to balance the artistic nature of the client's work with the hard-edged business side of things. In some cases, that balance is an easy one to strike, but in many cases, it can be very difficult,' says Steve. He goes on to say, however, that getting celebrities in front of an audience has become easier than ever. 'I think the biggest opportunity in the way in which celebrities make money and, more importantly, communicate with their audiences, has exploded. In the old days they needed to be cast in a film, but now there's social media and brand partnerships for example – there are myriad opportunities for them to be out there.'
CAA gave Steve the opportunity to get his name and expertise out there too. After driving a transformation project within CAA for 18 months, he stepped above the talent agency in August 2019 and into its majority shareholder company, TPG, as a senior advisor. Steve's remit has now expanded beyond media – as a global private equity firm, TPG also owns stakes in companies such as Uber, Spotify and Airbnb – and he is tasked with navigating an increasingly complex global environment to make investment decisions. 'I think that the biggest challenge, particularly for an investment firm, is navigating the current economic climate,' he says. 'For instance, what do all these trade disputes mean? What does Brexit mean? What do low long-term interest rates mean?'
Although Steve has a tough job at hand, he's never been afraid of a challenge. 'When I first joined Nielsen, everyone said the media business couldn't be turned around, but we did it,' he says. And so, for Steve, advising a firm with $108 billion of assets under management is another career rung to climb and no doubt conquer.