The social change agent influencing politics through research.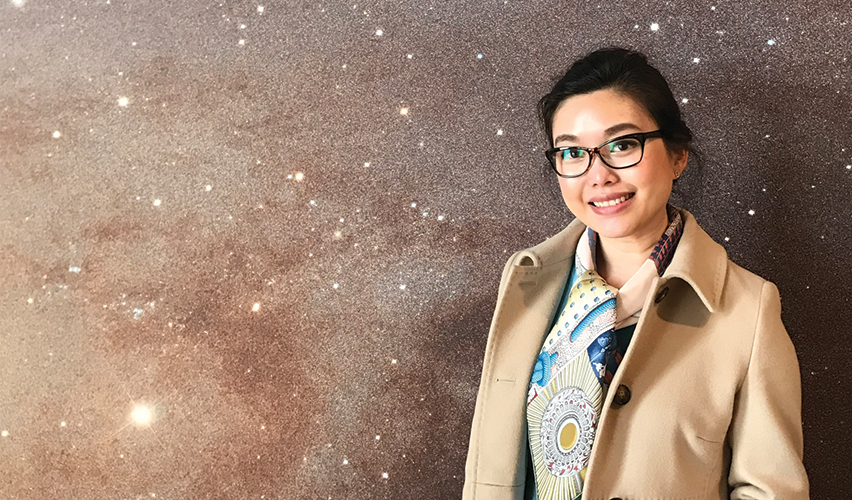 Location: Dublin, Ireland
When Sabrina Anjara (TCFS 2004) completed field work with migrant domestic workers in Singapore as part of her master's degree in science, she was troubled by a disheartening trend. Many of the women she spoke to had left their children to work abroad as domestic workers, sending almost a full salary home to feed those children, who were now under the care of somebody else.
Then, when Sabrina entered the workforce in Singapore (where she had spent her teen years), she watched as abused children became 'crossover youth' – juvenile delinquents who often ended up in prison. Later she became aware of a distressing trend in her home country of Indonesia, where people would lock up mentally ill family members in a home prison of sorts, simply because they didn't know where to take their loved ones to find help.
Recognising a series of broken systems, Sabrina wanted to address these problems by looking at the big picture, but felt she was too young at the time to enter politics. She was also aware that, as a non-Muslim, political life in Indonesia would be incredibly difficult. So, she took to research instead, and is now working at University College in Dublin as a postdoctoral research fellow, focusing on the development of an integrated care model for older people in Ireland.
'With research, it's always a toss-up between doing something with social impact or doing something glamorous that contributes to theory,' says Sabrina. 'I've always looked for research opportunities where I could make a difference.'
And she has made a difference. After conducting her research with migrant workers, the body of evidence she'd drawn allowed human rights organisations to lobby the government to give domestic workers one day off a week. Her study provided concrete data that showed working on two-year contracts without a single day of rest was damaging to the workers' mental health and affected their ability to cope with life's challenges. 'After that I could see that my projects, although relatively small, could help influence policy that impacts people's lives,' says Sabrina.
Sabrina – who went on to become Indonesia's first Gates Cambridge Scholar – attributes her broad way of thinking about research to her time at Trinity and the University of Melbourne. 'It's quite an uncommon model to have a psychologist who also studied political science, the history of ideas, drama and English literature,' she says. 'I was quite shocked at the thought of having to do drama and English debates as I wanted to study science, but looking back, I would say that my holistic education – even at a basic level – was sufficient to inform me that life is not just about working as a psychologist, but that political situations and systemic discrimination can also affect someone's wellbeing.'
Sabrina's expertise is now being recognised globally (becoming a World Economic Forum Global Shaper, among other things, is just another of her accolades) and her influence has spread to the top tier of Indonesia's government. In January 2019 she was invited to present on psychological theory to 200 police generals from across Indonesia and the event recording got into the hands of President Joko Widodo. The president subsequently invited her in for a discussion about how to address Indonesia's diaspora as the country grows.
Although Sabrina now lives in Ireland, which she praises for its supportive academic environment, Sabrina still feels passionate about issues affecting Indonesia, particularly because her parents still live there. 'At times I feel cognitive dissonance when trying to improve the health system in Ireland, especially for older people, while my parents are part of the aging population in Indonesia,' she says.
'What I'd like to see in Indonesia – although it's not limited to one country – is intellectual humility between professions,' says Sabrina. 'As it stands, a medical doctor always has the final say and that silences other voices in a multidisciplinary healthcare team, such as those of nurses, physios and social workers. I think we need to understand and recognise that these people may have perspectives and expertise that can help with patient care. We need to ask, what is the goal? Is it self-preservation or to further someone's profession? Or is to be there for the patient? That's my passion at the moment.'