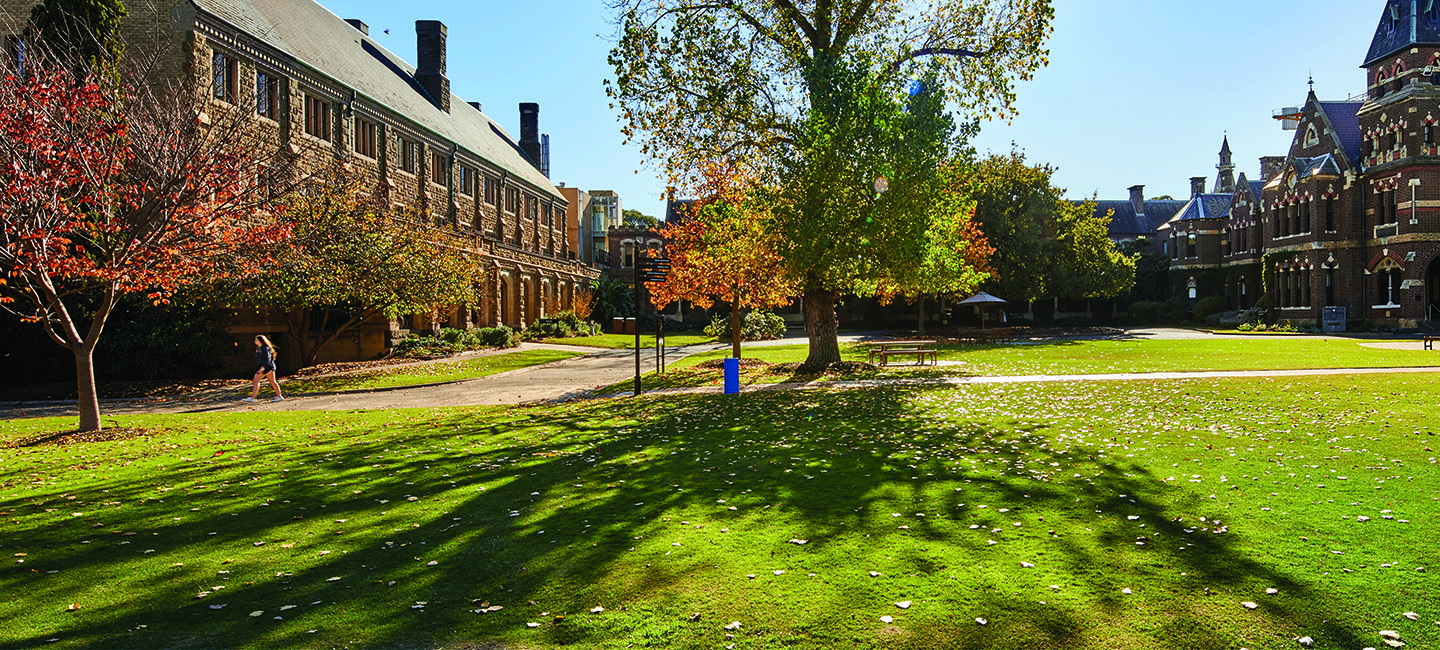 Visiting Scholars
Visiting scholars
Trinity College is proud to partner with the Faculty of Law at the University of Melbourne, the Miegunyah Committee, University of Melbourne, and other arts, legal, scientific and cultural institutions based in Melbourne. If the scholar is visiting as part of an arrangement with a Trinity partner, the stay may be subsidised in return for participation in College life during their stay.
Engagement activities are negotiated individually between the scholar and the College to reflect the length of stay, the scholar's interests and availability. Activities might include:
meeting students at a reception or dine with a Scholar at High Table event
presenting one Wednesday night to a general audience on as part of our regular Fireside Chat series;
offering a class(es) or lecture(s) to Foundation Studies or the Theological School;
participating in a public debate, symposium, forum, lecture or conference sponsored by the College.
Previous visiting scholars
Previous visiting scholars have included two Nobel laureates in economics, several Miegunyah Fellows, professors from Harvard, Oxford, Cambridge and other leading universities, media dons such as David Starkey CBE, critical theorists such as Terry Eagleton, as well as leading scientists.
Justice Janak De Silva, Judge of the Supreme Court of Sri Lanka.
Associate Professor Colleen Butcher-Gollach, Principal Fellow, University of Melbourne.
Professor David Tan, Co-Director of the Centre for Technology, Robotics, Artificial Intelligence & the Law, and Head (Intellectual Property) at the EW Barker Centre for Law & Business at the Faculty of Law, National University of Singapore (NUS Law)
Professor Lawrence Gostin, Director of the O'Neill Institute for National and Global Health Law and Founding O'Neill Chair in Global Health Law, Georgtown Law School.
Dr Richard Ascough, Professor of Religious Studies at Queen's University in Kingston, Ontario, Canada.
Dr Alex Bremner, Professor of Architectural History, The University of Edinburgh.
Professor Joe Gone, Professor of Anthropology and of Global Health and Social Medicine at Harvard University.
Bruce Pascoe, Enterprise Professor in Indigenous Agriculture, University of Melbourne.
Dr Ulrike Link-Wieczorek, Professor of systematic theology and religious education at the Institute of Protestant Theology and Religious Education, University of Oldenburg
Professor Ron Paterson, Professor of Law at the University of Auckland and Senior Fellow at the University of Melbourne.
Professor Willie Jennings, Associate Professor of Systematic Theology and Africana Studies. Yale Divinity School.
Professor Gian Luca Burci, Adjunct Professor of international law at the Graduate Institute of International and Development Studies.