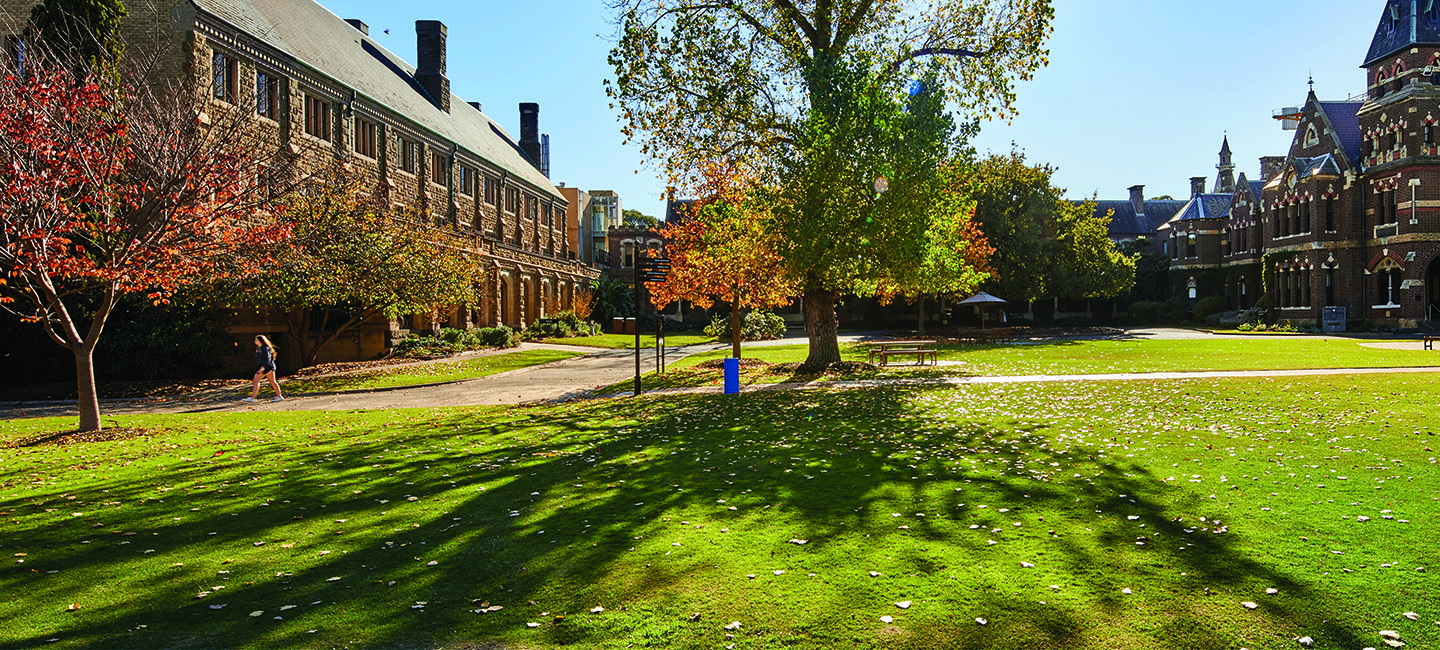 Increasing knowledge of Indigenous culture
Trinity contributes to a deeper understanding of Indigenous culture at the College, the University and the wider community.
This is achieved by:
Indigenous students adding to the diversity of the Trinity community, enriching campus life, and adding to the College's understanding of Indigenous culture
the Visiting Scholars program where Indigenous elders, writers, artists and performers share their law, custom and culture with the wider College and University communities
the annual visit by resident students and staff to the remote Indigenous community of Minyerri in the Northern Territory where they live and learn about the community and meet with community leaders
drama workshops at Nungalinga College in Darwin facilitated by the College's Foundation Studies Drama School
Theological School visits to Wontulp-bi-Buya College in Cairns and Nungalinya College in Darwin to exchange ideas and gain a greater understanding of Indigenous culture and its implications for the study and practice of theological learning.
Learning from and with Indigenous communities
Indigenous Visiting Fellows
The College conducts a program under which Indigenous writers, musicians and community leaders live in residence at Trinity and conduct lectures and workshops for resident students under the Indigenous Visiting Fellows program.
The following Visiting Fellows have participated in this rich and varied program since 2001:
Rarriway Marika
Annually since 2007
Artist and educator from north-east Arnhem Land
Langani Marika
Annually since 2007
Senior law woman Rirratjingu Clan north-east Arnhem Land, culture and tradition educator and expert in bush medicine and local botany
Banduk Marika
2008
Yirrkala Bark painter and printmaker from north east Arnhem Land
Dhuwarrwarr Marika
2008
Statesperson, painter, printmaker from north east Arnhem Land
Kathy Balngayngu Marika
2008
Bangarra Dance Theatre Cultural consultant
Joe Neparrnga Gumbala
2003 2004 2005 2006
Yolngu Elder and musician from Elcho Island Arnhem Land, inaugural University of Melbourne Linga Narra Fellow
Kim Scott
2002
Miles Franklin Literary Award winning Nyoongar author from south east coast of Western Australia, educator
The late Roberta Skyes (d. 2010)
2001
Activist for Black rights and winner of Australia's highest humanitarian award – the Australian Humanitarian Award, author, educator and government advisor
Ray Vincent
2001
Aboriginal artist from Dhungutti or Bundjalung clans northern New South Wales
Tammy Anderson
2009
Wrote and performed the story of her life, I don't wanna play house
Collections of art and cultural art objects
The College is building a significant collection of artworks by Indigenous artists.
Senior elders of the Marika family of the Rirratjingu clan of the Yolngu people from north east Arnhem Land, entrusted Trinity College with the custodianship of 14 works by Wandjuk Marika. The works depict the coastal waters near Dhambaliya.
More information about Trinity's Indigenous Art Collection
Library collection
The Leeper Library also has a growing collection of Indigenous literature and archival Indigenous materials.