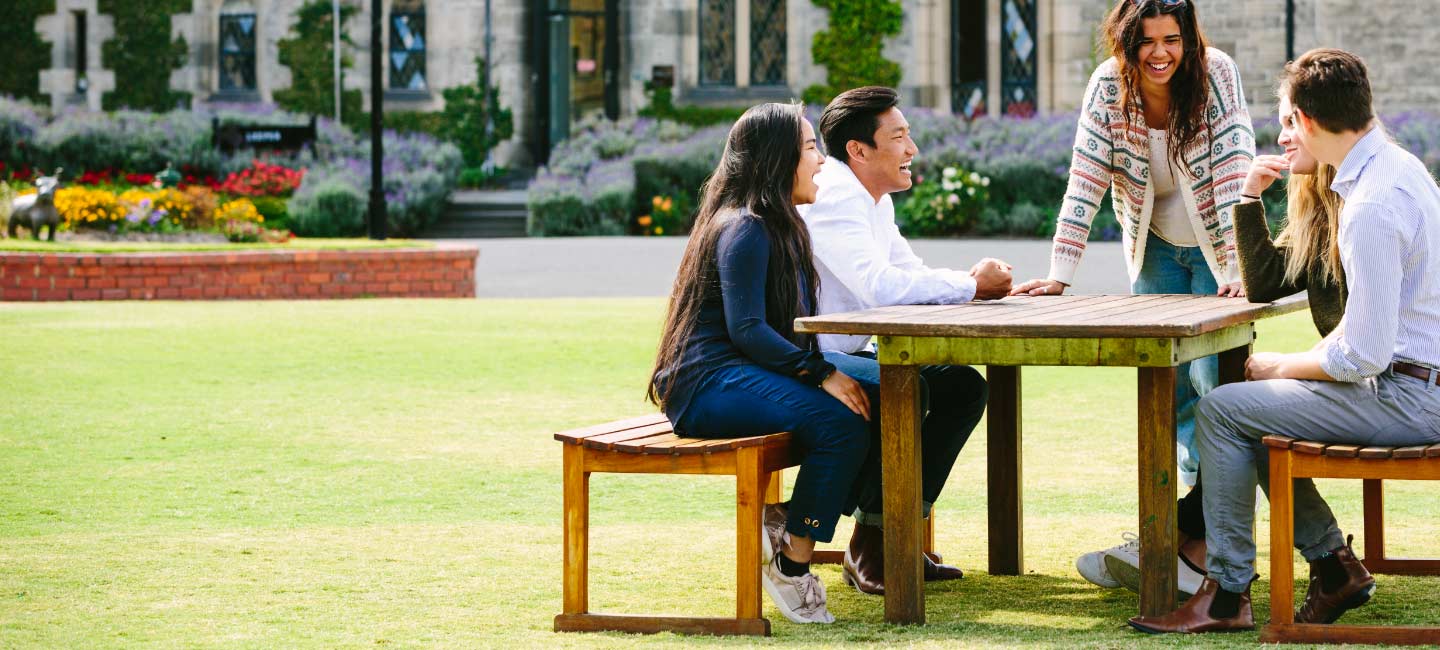 Food
Forget grocery shopping and cooking – Trinity will take care of all your meals.

Meal times are a highlight at Trinity. Not only is it when our students come together to socialise, but the food is pretty good too!
We serve three meals a day, seven days a week, plus snacks, so you'll never go hungry. We can cater for all dietary requirements, including vegan, vegetarian, halal, gluten free and lactose free – we even have a chef dedicated to preparing meals for those with special diets.
Read more about Trinity's kitchen team here.
Breakfast
From Monday to Saturday you can enjoy a casual breakfast in our light-filled cafeteria that overlooks the back lawn, and on fine days you can sit under the umbrellas in our sunny courtyard. On Sundays we know you'll probably enjoy a sleep in, so we keep brunch going until 2.30pm.
Fried, scrambled or poached eggs
Sausages, cooked mushrooms, tomatoes
Housemade bircher muesli
Crossaints, waffles and/or danishes
Variety of cereals
Assorted breads including gluten free bread and high-fibre and a selection of spreads
Fresh fruit
100% fruit juice
Tea and coffee
Lunch
Every lunchtime we offer a hot meat, vegetarian and vegan option, plus a generous salad bar and bread. We like to mix up the menu items so there's always plenty of variety.
Dishes may include:
Peri peri chicken burger with slaw and aioli, served with cajun spiced potato chips
Falafel souvlaki with tabbouleh, chickpea hummus and garlic aioli
Herb and caper crusted fish fillets with housemade tartare sauce
Beef and bean quesadillas with guacamole
Crispy chicken drumsticks with fried rice and prawn crackers
Beef and sweet potato vindaloo curry with jasmine rice
Tumeric roasted cauliflower with sweet potato and wholegrain freekeh
Spiced quinoa with grilled corn and roasted red peppers
Slow-cooked coconut lentils, served with crispy tortillas
Bacon and mushroom pasta bake with Italian herbs and mozarella
Dinner
Like our lunch meals, we like to mix things up at dinner so you don't get bored with the same food day in, day out. We have a hot meat, vegetarian and vegan option every night.
Dinner at Trinity College is a special affair as we set our beautiful dining hall for a formal meal and our students wear their academic gowns (think of Harry Potter if you need a visual). This happens Monday to Thursday, then Fridays and weekends are more casual.
Every now and then we take things to the next level by hosting a themed dinner – think a jungle or beach night, or a dinner that centres around a particular cuisine such as Mexican or Moroccan. We deck out the dining hall with decorations and put on an extra swish menu. It's always good fun.
Here's an example of the dishes we serve for dinner throughout the week:
Slow-cooked pork belly with shitake mushrooms and star anise
Honey and soy roasted chicken wings with stir-fried noodles
Mushroom and barley risotto with creamy basil sauce
Vegetable samosas with cumin and mint yoghurt
Roasted pumpkin, fetta and caramelised onion bruschetta
Slow-cooked lamb shoulder with quinoa tabouleh, labneh and red onion pickle
Asian coleslaw with pickled ginger and sesame
Roasted cauliflower with white beans, mint and pomegranate
Flourless lemon myrtle cake
Cardamom and orange cake with honey glaze
Baked New York cheesecake
Cheese platters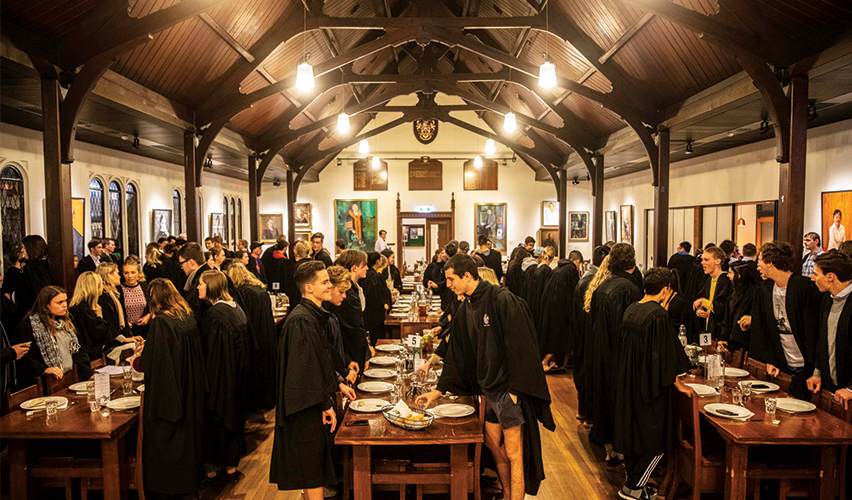 Still hungry?
Our students can enjoy complimentary hot drinks, snacks and fruit throughout the day. We then bring out the bread and condiments for an hour every afternoon to help deal with arvo munchies.
We also have a café located next to the formal dining hall where you can purchase barrista coffee (and hot chocolate) along with a range of snacks such as sandwiches and muffins. In the cooler months we also serve soup.
After hours meals
If for some reason you're not available during our set meal times, let us know and we can put together a take-away meal for you to collect and eat at your leisure.