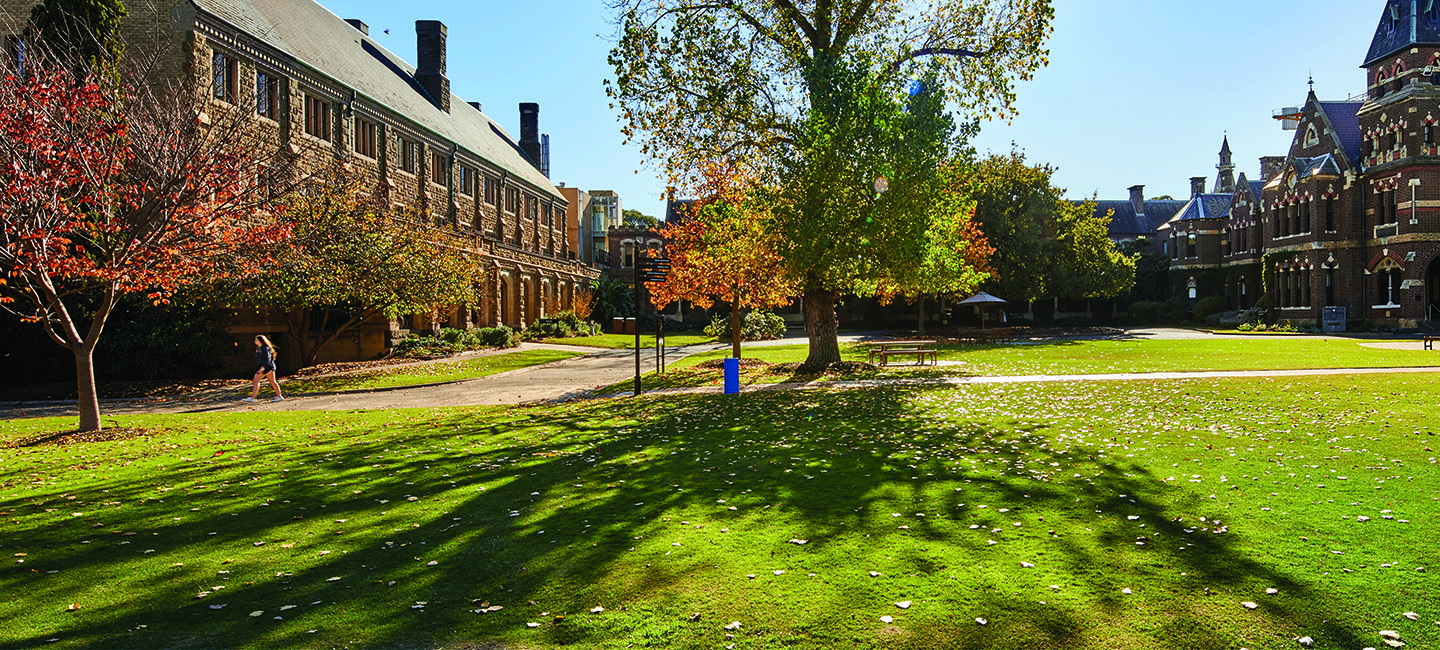 How did early Christianity deal with pleasure?
Janette Gray scholarship recipient and PhD student Julia Thwaites shares why she traded a career in visual arts to pursue theological study, and the reason she chose to examine the intersection between pleasure, sin and repression.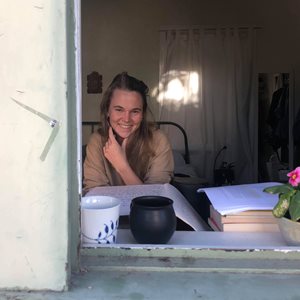 For Julia Thwaites, theology was the 'open window' that allowed her to find a new creative pathway after a career in visual arts. For her, theological study was a new way to make art, and, though it didn't fit the traditional arts career trajectory, she found it immensely satisfying. Now, Julia is about to take her creativity a step further, having secured a scholarship to pursue a PhD provisionally titled 'Spiritual Combat: Christian Opposition of Soul and Body as Anatomised Through Pleasure' at Trinity College Theological School.
Julia was raised in a diplomatic family, moving from Zimbabwe, to Denmark, to Vietnam, to Canberra, and intermittently attended church during childhood. She studied visual arts and literature as an undergraduate and went on to work and exhibit in various art galleries.
When her work started to look at Christian ritual, Julia had a strong sense of needing to improve her theological knowledge in order to speak authoritatively on the subject she was becoming increasingly passionate about. 'I wanted to learn more and then it just completely took on a life of its own and my interest in theology eclipsed everything I'd been doing in visual arts,' she says.
Julia says she always loved the idea of doing a PhD, but admits she was, and still is, intimidated by the weight of responsibility that comes with delving into and doing justice to a research topic. 'But the opportunity to go deep on something is a rare one,' she adds. 'You don't usually get to have this sustained focus for such a long time.'
A family friend suggested Julia look into theological study at Trinity College, so, Julia 'literally walked in off the street one day' and found Trinity's registrar to be generous with his time as he helped her find the right study option. From there, she enrolled in a six-month program, then went on to complete a Master of Divinity.
'I hoped I would find a community of really interesting critical thinkers who want to talk about Christianity and theology and the place that they still hold in society more generally. And I have been so thrilled to find so many wonderful people,' she says.
One of those people is her research supervisor, Scott Kirkland, who is heading up Trinity's broader research project 'Figuring the Enemy' alongside Christopher Porter. Julia's PhD will form part of this project, and she will consider the 'enemy' as it exists within the individual and the body.
As part of her research, Julia will explore early monastic works, as well as the works of Giorgio Agamben, Émile Benveniste and Michel Foucault, with a particular focus on the recently published fourth volume of Foucault's History of Sexuality series. She will examine the way in which early Christians dealt with pleasure for its own sake, as opposed to pleasure as incidental to the service of some higher purpose. 'It should ultimately respond to the question "What are the political-theological and gendered consequences of an internal enemy, the presence of which is revealed through pleasure?"' she says.
Julia is passionate about the subject because she says it has had huge consequences.
'It comes back to questions of sin, really, and understandings of sin which have been incredibly oppressive and used to especially oppress the body,' she explains. 'It's a political question … this is an area that's ultimately about controlling people.'
When it comes to control, Julia says it's important to understand how Christianity has influenced broader notions of morality and law, which have since been secularised. 'We carry all of that baggage with us, especially in the West. And, so, diving in as a theologian, you're looking at your own history and wanting to take responsibility for that and understand it. There's a lot of beautiful theology that talks about how liberative Christian belief is, and there's liberation theology, but this cataloging of Christian history and both its positive and negative effects seems so important to me because it's at the heart of our understanding of our own culture.'
Looking back on her theological journey so far and the way it has influenced her decision to pursue a project that is likely to look at the gendered consequences of early Christian perspectives on pleasure and the body, Julia reflects on Dorothy Lee's Women in the Bible unit and her subjects taught by Rachelle Gilmour at Trinity College.
'I really appreciate that [Dorothy and Rachelle] have a very even-handed take [on subject matter]. You can read some parts of the Bible and feel overwhelmed by the damage that it's done. When you read what's on the page, you bring 2000 years or more of women's oppression with you and you're like, "It's a tragedy that this is here". But, of course, their role as the wonderful teachers that they are is to help you to see it without the history, and in its historical context, and to know that it could have been interpreted a different way,' she says. 'Because of what's on the page there are lots of different ways to understand what's written, and I found [the teachers] really brave in doing that. My instinct is always to reject these painful passages, but they're very steadfast in the way they teach, and I really admire that.'
Julia also feels there's a special connection between her research topic and her scholarship, given she's the recipient of the esteemed Janette Gray PhD Scholarship, which is named after scholar and educator Dr Janette Gray, a Sister of Mercy, and supports the education and leadership of women in theology.
'There's this lovely symmetry to it because a couple of years ago I was asked to organise and record [Jan Gray's] book collection, which she left to the nuns at the Sisters of Mercy hub on Nicholson Street. In doing that, I really got a strong sense of her intellectual interests and her sense of curiosity and open mindedness, and her beautiful faith as well…I got to know her world, and, ultimately, the projects seem like they're related. She was a nun who wrote on sex and celibacy and my project will also be looking at sexuality. It feels very apt somehow.'